Boobs do not need support + lift 100% of the time
Our No-Nip Tee allows your boobs to hang freely, while shielding the nipping, so you can go about your day unbothered by judgmental stares.
*CLICK* TO WATCH OUR BRAND FILM
Neuro-inclusive Design
Inclusive design is more than a buzzword; it's our essence. We believe a revolutionary product should empower all folks, from neurodiverse individuals with sensory sensitivities to those opting for braless comfort.
"Game changer - I feel like my stress level has gone down!"
I hate wearing bras, but have very noticeable nips which makes it hard to get away without one. The liner is seamless - you don't even realize it's there and absolutely no nips peeking through.
"It feels like I'm naked but I'm not naked!"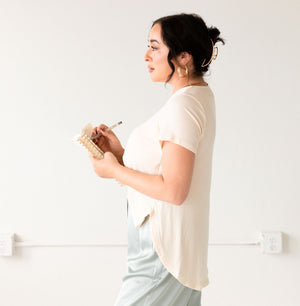 Cream Braless No-Nip Tee
Sale price Price $65.00 Regular price Unit price / per